Iowa State University Cyclone Football & Marching Band
A compilation of pictures, videos and messages from the Iowa State University College Football Varsity Marching Band seasons. Beginning with the fall of 2016.
Divas Show (vs Northern Iowa Panthers - Season Opener)
2016-09-04T00:00:00Z
UNI Stuns ISU
Iowa State lost to a FCS team for the third time in four years as Northern Iowa beat the Cyclones 25-20 on Saturday.
It happened again.
For the third time in four seasons, Iowa State lost to an FCS team. This time, in the debut of head coach Matt Campbell, the Cyclones lost 25-20 to Northern Iowa on Saturday.
It was the kind of start ISU, and Campbell, hoped to avoid to this season. The Cyclones were inconsistent throughout the game and trailed for large stretches of the contest.
Despite all its problems, ISU appeared to be in position to win the game when quarterback Joel Lanning connected with wide receiver Allen Lazard on a 33-yard touchdown. It gave the Cyclones a 20-19 lead with 7 minutes, 2 seconds left.
An interception by Lanning would give UNI the ball on ISU's 36-yard line. The Panthers would turn the turnover into a 1-yard touchdown run by J'Veyon Browning.
ISU got 256 passing yards from Lanning and 129 receiving yards from Lanning, but it wasn't enough to overcome nine penalties, four turnovers and 232 rushing yards from Northern Iowa.
It's a new regime, but ISU finds itself in a familiar place. The Cyclones must rebound after a season opening loss. ISU will travel to No. 17 Iowa for the Cy-Hawk rivalry game on Sept. 10.
By Bobby La Gesse
Posted Sep 3, 2016 at 10:45 PM
Divas Cy-Hawk Game Show (at Iowa Hawkeyes)
2016-09-10T11:30:00Z
825 Stadium Drive
52240
IA
United States
Kinnick Stadium

Hawkeyes rout Cyclones
IOWA CITY—The Iowa State football team dropped its second game of the season in a 42-3 loss to Iowa.
The Hawkeyes, from the first whistle to the final, looked every bit the No. 16 team in the country in dismantling the Cyclones.
ISU forced a punt on the first Iowa drive, but the defense fell apart afterward. The Hawkeyes scored on four-straight drives, three passing touchdowns and a rushing touchdown by CJ Beathard, to go up 28-3 at the half.
ISU forced an Iowa punt on Iowa's first drive of the second half, but could not find the scoreboard to close the gap.
The Hawkeyes scored on their third drive of the second half on a 3-yard rush by Akrum Wadley to go up 35-3, and then Ben Niemann picked off ISU quarterback Joel Lanning to set the Hawkeyes up at the 43-yard line.
Leshun Daniels Jr. rushed in two plays and 17 seconds later to put the Hawkeyes up 42-3.
ISU head coach Matt Campbell turned to transfer quarterback Jacob Park after the interception, but Park's fortune was no better than Lanning's, as the redshirt sophomore could not find the end zone, either.
Iowa had 435 yards of total offense to ISU's 291. Mike Warren managed just 28 yards rushing.
Park played the full fourth quarter. Hakeem Butler went down with an apparent leg injury late in the quarter.
The Cyclones continued to beat themselves with penalties later in the game. ISU had 10 penalties called for 73 yards against them.
The Cyclones did themselves no favors either, however, with dropped passes and missed catches plaguing them for much of the game.
ISU dropped to 0-2 with the loss.
Posted Sep 10, 2016 at 3:54 PM
Updated Sep 11, 2016 at 12:02 AM
Indoor Concert with Linn-Mar High School
2016-09-09
3111 10th Street
52302
IA
United States
Linn-Mar High School
ISUCF"V"MB Visits Cedar Rapids
Cedar Rapids area Cyclone Fans! The ISUCF"V"MB will be visiting Linn-Mar the night before the Iowa game on Friday September 9th. There will be an exhibition show at 7:00PM. They are also still looking to place nearly 100 band members in peoples homes for the night. If you have space and are willing to host some members please see this link!
Let's Dance Show (vs San Jose State Spartans)
2016-09-24T16:00:00Z
Campbell gets first victory as Cyclones rout SJSU
The Matt Campbell era is on the board.
Iowa State defeated San Jose State, 44-10, to give the Cyclones their first win of the season and Campbell's first as ISU's head coach.
"It's great for those kids," Campbell said. "We've won football games (as a coaching staff). I know what winning and losing feels like and looks like. Today is a byproduct of what our kids were able to do on Sunday and Tuesday and Wednesday and Thursday. They've been locked in."
The Cyclones (1-3) continued a quarterback carousel with both Joel Lanning and Jacob Park playing and both finding success. Lanning completed 5 of 8 passes for 136 yards and two touchdowns while Park was 15 of 19 for 165 yards and three scores.
ISU's defense forced four turnovers, all coming off interceptions of the Spartans' true freshman Josh Love, who was making his first career start in place of the injured Kenny Potter.
ISU running back Mike Warren built off his 90-yard performance last week against TCU by racking up 103 yards and a touchdown against the Spartans (1-3).
The Cyclones got on the board early when Allen Lazard made a spectacular grab in the corner of the end zone, somehow getting a toe down in bounds to complete a 17-yard pass from Lanning to put the Cyclones up 7-0. The two teams then traded field goals before Warren scored from two yards out and Dondre Daley caught a 23-yard pass from Park to put ISU up 23-3 heading into halftime.
True freshman Deshaunte Jones caught two touchdown passes — a 49-yarder from Lanning and a 1-yarder from Park — in the second half to help the Cyclones pull even further away late.
ISU is home again next week while returning to Big 12 play with Baylor visiting Ames for an 11 a.m. kick to be broadcast by FS1.
By Travis Hines Staff Writer thines@amestrib.com
Posted Sep 24, 2016 at 12:57 PMUpdated Sep 24, 2016 at 1:13 PM
Summer Sensations Show (vs Baylor Bears)
2016-10-01T16:00:00Z

Baylor comes from behind to beat ISU
A 14-point lead and a chance at a season-defining upset were squandered Saturday by Iowa State.
The Cyclones blew a two-touchdown advantage as 13th-ranked Baylor outscored them 17-0 in the fourth quarter to claim a 45-42 victory courtesy of a 19-yard field goal by Bears kicker Chris Callahan as time expired.
Through three quarters, Baylor simply couldn't stop the ISU offense. The Cyclones scored on six-straight drives (not including taking a knee right before half) as their lead fluctuated between seven and 14 points for most of the game.
But then in the fourth quarter, the offense stalled, unable to move the ball or put points on the board as Baylor outscored them 17-0 in the decisive final frame.
Joel Lanning, the only quarterback to play for the Cyclones went 17 of 23 for 261 yards and two touchdowns while Mike Warren rushed for 130 yards.
Baylor's Shock Linwood rushed for 237 yards on 25 carries.
The Cyclones hit the road next week to face Oklahoma State in Stillwater.
Leave Your LegaCY Homecoming Show (vs Kansas Sate Wildcats)
2016-10-29T16:00:00Z
Miscues doom Cyclones in loss to Wildcats
Dropped passes, penalties take heavy toll
With its defense struggling, a sharp offense would have been critical to the success of the Cyclones on Saturday afternoon at Jack Trice Stadium.
But dropped passes during key moments, paired with missed execution and backbreaking penalties paralyzed the Cyclones in their 31-26 loss to Kansas State.
One second-quarter drive in particular was especially demoralizing, and it was two dropped passes — each precisely thrown by quarterback Jacob Park — that stymied the Cyclones.
First was a second-and-eight from the Wildcats' 41 yard-line, Park beamed a perfect strike in the flat to freshman wide-receiver Deshaunte Jones for a would-be first-down, but the ball popped off Jones' hands.
Then the big one.
As he eluded pressure on third-down, Parks threw a wobbly but precise floater to a wide open Trever Ryen, hitting him in stride at the 5-yard line with no defenders around or ahead of him.
The would-be touchdown toss was mishandled and dropped by the junior wide- eceiver, and, still down 17-3, the Cyclones punted to a Wildcats team that punted just once in the first half.
"It happens," Park said. "They aren't going to catch everything just like I'm not going to make every pass. It's a part of the game. And there's really nothing to say to him (Ryen) except to let it go. When you dwell on it is when it happens again, so just let it go."
If the wobbler would have been caught, the Cyclones would have a cut the deficit to 17-10 just before the half, and potentially changed the complexion of the game.
But it wasn't just the back-to-back drops that were self-defeating. The defense, though penalized somewhat seldom throughout, was guilty of some significant untimely penalties.
One could be considered a momentum killer. In a game where there was very little momentum to be had.
Back-to-back offsides penalties by the Cyclones in their own territory aided the Wildcats to their second touchdown of four.
Then after the Wildcats were unable to convert on a third-and-14 early in the third quarter — while the Cyclones had all the momentum after their first touchdown — it was a personal foul call after a late hit on junior linebacker
Brian Mills which extended the Wildcat drive.
That penalty killed what little momentum the Cyclones defense was able to muster in the game. And that drive ultimately lead to a Kansas State touchdown — the Wildcats were up two scores again, and wouldn't look back.
Cyclones coach Matt Campbell blamed the mental lapses on lack of focus throughout the week.
"It's not fair to call anybody out, and there was a couple little things in there that end up becoming major as you look at the game, and how it turns out," Campbell said. "Until we understand how — both coaching and playing — how important Tuesday and Wednesday, Thursday are, then we don't make those mistakes on Friday, and obviously into the game on Saturday."
Then there was the fourth-and-goal from the one — three rushing tries had already failed — when a wide-open David Montgomery was overthrown, point-blank, by Parks. If the toss would have been on target (and caught), it would have cut the deficit to one score, giving the Cyclones life once again.
"Third down we tried to run the option, which ends up being really good play, I just don't think we got the edge. And then you saw what happened on fourth down, and that stinks, it does, it stinks," Campbell said. "The reality of it, is that we have to score there, and it can become the difference in the football game."
By TJ Rushing, Special to the Tribune
Posted Oct 29, 2016 at 4:53 PM
2016 ISU Band Extravaganza
2016-11-11T13:00:00Z
1900 Center Drive
50011
IA
United States
Stephens Auditorium
Ensembles scheduled to perform include the ISU Wind Ensemble, the Cyclone Marching Band, the Symphonic Band, and the ISU Jazz Ensemble.
Animation Show (vs Oklahoma Sooners)
2016-11-03T23:30:00Z

Oklahoma holds off Iowa State
Cyclones fall for 18th-straight time to Sooners
Oklahoma's dominance of Iowa State continued Thursday night, though it wasn't as complete as it has been in recent years.
The Sooners held off a feisty, but ultimately futile upset attempt by the Cyclones with a 34-24 victory at Jack Trice Stadium.
ISU moved to 1-8 overall and 0-6 in the Big 12 with its 18th-consecutive loss to the Sooners (7-2, 6-0).
The Cyclones made things interesting on a number of occasions, including the fourth quarter, but Oklahoma had answers at every turn to keep ISU at arm's length and the game secure.
"We're continuing to fight," ISU coach Matt Campbell said. "We're continuing to battle. Obviously it stinks when the score's not indicative of the strides and how our kids have played."
After falling behind 14-3 in the first quarter, the Cyclones added touchdowns via a 31-yard pitch-and-catch from Jacob Park to Allen Lazard and a 41-yard burst by Joel Lanning on fourth down to spring to a 17-14 lead.
That advantage lasted nine seconds.
On the Sooners' next play from scrimmage, quarterback Baker Mayfield threw a 65-yard bomb to receiver Dede Westbrook to put the Sooners almost immediately back in front.
After a sleepy third quarter in which Oklahoma outscored ISU 3-0, the Cyclones put together a 10-play, 86-yard drive that was capped by a beauty of a 23-yard back-shoulder throw from Park to Dondre Daley that pulled ISU within a score, 31-24, with 13:04 to play.
Once again, though, the Sooners had a counterpunch, albeit a jab, when they went 55 yards in 12 plays and 5 minutes, 55 seconds to tack a field goal on to their total to make it a two-score game.
ISU would draw no closer.
Park threw for 160 yards and two touchdowns while Lanning rushed for 61 yards and a score. Lazard caught six passes for 76 yards and a score. David Montgomery had 44 yards on 10 carries and Kene Nwangwu had 25 on six. Sophomore starting running back Mike Warren did not play after suffering an ankle injury last week that limited him in practice.
The Cyclones travel to face Kansas next week in Lawrence in a game between two teams which are winless in the Big 12.
By Travis Hines
Posted Nov 3, 2016 at 9:55 PM
Pets Show (vs Texas Tech Red Raiders)
2016-11-19T20:30:00Z

Cyclones roll Red Raiders 66-10
ISU dominates from start to finish in record-setting fashion
Earlier this week, Iowa State head coach Matt Campbell said winning is fragile. Well, it looks like winning might be contagious in the Cyclones' locker room, too.
On Saturday at Jack Trice Stadium, ISU scored 45 first half points in a 66-10 rout over Texas Tech. The win gives the Cyclones back-to-back victories for the first time since 2013.
Here's a brief look at how ISU won its third game of the season.
Player of the game
Cyclones quarterback Joel Lanning rushed 171 yards and five touchdowns against Texas Tech, setting the single-season record for rushing touchdowns with 11 and surpassing former ISU quarterback Sage Rosenfels. Lanning also tied Troy Davis -- who did it twice in 1996 -- and Joe Henderson (1988) for most rushing touchdowns in a game.
Play of the game
Lazard made plenty of highlight plays on Saturday, but his best grab of the night when he hauled in a 34-yard pass from Jacob Park for a touchdown. The pass was high, but Lazard leaped up, stopped the ball with his left hand and brought it in for the score.
Should be recognized
The Cyclones held a high-powered Texas Tech offense to only 306 total yards and 10 points. The Red Raiders came into the game averaging 46 points. Last year, Texas Tech accumulated 776 total yards and 66 points in a win over the Cyclones. Patrick Mahomes II, who leads the nation in passing yards, completed 11-23 passes for 131 yards in the first half. He finished with 219 yards. The defense also forced three turnovers -- though it could've had a lot more. The Cyclones defense had three-near interceptions before Kamari Cotton-Moya -- a play after dropping an interception -- jumped a pass from Mahomes and took it 48-yards for the touchdown, giving the Cyclones a 42-3 lead with 6:50 left in the second quarter. Cotton-Moya also had a forced fumble and recovery. Evrett Edwards added an interception in the fourth quarter.
It was over when
After Texas Tech scored its first touchdown of the game to make the score 45-10, ISU responded with a six-play, 75-yard drive that culminated with a 19-yard touchdown run from Joel Lanning -- his third score of the game.
Quick facts
Lazard finished Saturday's game with seven receptions for 137 yards and one touchdowns. It was his fifth 100-yard receiving game of the season and the seventh of his career.
All of Lazard's seven receptions either went for either first downs or touchdowns.
Joel Lanning ran for a career-best 171 yards against Texas Tech. His previous best was 130 against Oklahoma State last year.
The 10 points for Texas Tech is the lowest point total for the Red Raiders since they lost to Iowa State 41-7 in 2011.
By Joseph Hoyt
Posted Nov 19, 2016 at 5:53 PM
Season Favorites The Final Show (vs West Virginia Mountaineers)
2016-11-26T20:30:00Z
No. 19 West Virginia storms past Iowa State 49-19
Iowa State ends the season with a 3-9 record.
Oh the difference a week makes.
After beating Texas Tech 66-10 last week, Iowa State welcomed in No. 19 West Virginia to Jack Trice Stadium and the Mountaineers walked away with a 49-19 victory.
The Cyclones didn't score an offensive touchdown against the Mountaineers -- their lone score came from a 97-yard kickoff return from Kene Nwangwu.
ISU ends the season with a 3-9 record and a 2-7 record in conference play.
Here's a brief look at how the game unfolded.
Player of the game
A week after the ISU defense held Texas Tech quarterback Patrick Mahomes II in check, West Virginia quarterback Skyler Howard tore up the Cyclones defense. He completed 12-of-21 passes for 330 yards and 5 touchdowns. He also ran for 48 yards on 9 carries.
Play of the game
Howard had a lot of pretty deep-ball passes, but one stood out in particular. Howard dropped in a 48-yard touchdown to Marcus Simms that went right over a Cyclone defender and into Simms' lap. The touchdown made it a 21-13 West Virginia lead in the second quarter.
Should be recognized
The Cyclones left a lot of points in the red zone. Iowa State entered inside West Virginia's 20-yard line four times and came away with three field goals and a fumble.
It was over when
David Montgomery fumbled after an impressive 46-yard run right before the end of the third quarter. West Virginia turned around and responded with a 40-yard touchdown pass from Skyler Howard to Shelton Gibson to take a 42-19 lead early in the fourth quarter.
Warren injured
Redshirt sophomore running back Mike Warren left the first quarter with an injury and didn't return. After being hit in the backfield and coughing up a fumble -- which West Virginia recovered -- Warren went down and needed help to walk off the field. He wasn't putting any pressure on his right foot. Warren missed the game against Oklahoma with a right foot injury and left the Kansas game early, as well.
Quick facts
Wide receiver Allen Lazard became the fourth player in ISU history to go over 1,000 yards receiving in a single season. His 103 yards on Saturday brought his season total to 1,018.
Kene Nwangwu became the first player since 2013 to have a kickoff return for a touchdown in a game. His first quarter return went for 97 yards.
Senior kicker Cole Netten extended the school-record for career points with 4 field goals and 1 extra point. He finished his career with 300 total points.
David Montgomery went over the 500-yard rushing mark on Saturday, joining Joel Lanning and Mike Warren. It's the first time in school history the Cyclones have had three players accumulate over 500 rushing yards in a season.
By Joseph Hoyt Staff Writer jhoyt@amestrib.com
Posted Nov 26, 2016 at 2:16 PM
Salute to Summer Show (vs Northern Iowa University Panthers)
2017-09-03T00:00:00Z
Cyclones overcome slow start with strong finish
You couldn't help but wonder as Northern Iowa slashed through Iowa State's defense. The doubt had to be creeping in. Confidence had to be shaken and the nightmares had to be feeling real.
When the Panthers, they of the FCS and two recent wins over ISU, just obliterated the ISU defense on that first drive of the first game, if existential dread, frustration or oh-no-not-this-again wasn't in your heart, you either have the patience of a saint or the belief of a zealot.
You also would have been in the right.
What initially looked like the first steps down the road to yet another disaster quickly detoured back to the safety and predictability most Power 5 schools experience against FCS teams as the Cyclones ultimately blasted Northern Iowa, 42-24, to begin Matt Campbell's second season a whole lot better than his first.
"I thought our guys just stayed the course," Campbell said. "If you flip back to a year ago, it was almost verbatim.
"That's the biggest difference I've seen. When we got some adverse situations, we were able to step up and make those plays."
There may be no better symbol of ISU's football ineptitude of the last four seasons than its 1-3 record against FCS schools, including a loss to these same Panthers in Campbell's debut a year ago. OK, the symbol is probably that debacle at Kansas State that cost Paul Rhoads his job, but you get the idea.
For a few minutes, it looked like the same old Cyclones. The Panthers were lighting them up like one of those dragons from Game of Thrones. They got scorched.
It all changed, though, when Willie Harvey and Kamari Cotton-Moya returned interceptions for touchdowns. Then the ISU offense found a rhythm that first consisted of David Montgomery bulldozing dudes, but then found the balance and effectiveness you'd expect from a unit returning so many players playing against an inferior foe.
The Cyclones looked exactly how they were supposed to look.
That sounds simple — and it is — but it's also significant. ISU hasn't looked like a Big 12 team often enough during this four-year bowl drought. They've looked less-than in losses to North Dakota State and Northern Iowa. Whether in was in depth, physicality, talent, execution or preparation, ISU just hasn't measured up.
Until Saturday. Well, until about midway through the first quarter Saturday.
The defense scored twice and had three takeaways. But it wasn't just those big plays — which can be fickle — it was the consistency of their approach. They bottled up UNI and found control of the line of scrimmage.
Offensively, the highlight was Montgomery. The sophomore looked like a star in the making. I'm not sure he's got an elite skill right now, but his vision, balance, patience, creativity and burst are all above-average. He can juke linemen, run away from linebackers and truck defensive backs. He's got a real chance to be special.
But he wasn't the only highlight for the offense.
Jacob Park spread the ball around. Tom Manning called a solid game from the pressbox. The wide receivers lived up to their billing in both production and depth.
This game didn't fit the blueprint of the perfect performance you'd draw up for ISU — the start was sluggish and the offense took time to rev up — but the outcome — a dominating, no-doubt win — was exactly what Campbell had to have been hoping for.
The Cyclones outclassed Northern Iowa. That's the way it should be.
Finally, that's the way it was.
By Travis Hines
Posted Sep 3, 2017 at 12:33 AM
Salute to Summer Cy-Hawk Game Show (vs University of Iowa Hawkeyes)
2017-09-09T16:00:00Z
Iowa edges ISU in Cy-Hawk classic
Hawkeyes win 44-41 in overtime
The Iowa football team held on in overtime to claim a 44-41 victory over Iowa State on Saturday.
Ihmir Smith-Marsette had the winning catch for the Hawkeyes, a five yard out route from Iowa's Nathan Stanley.
The Hawkeyes defended first in overtime and held ISU to a field goal after the Cyclones failed to convert a third down attempt inside the 15. Hakeem Butler dropped Jacob Park's pass and the Cyclones were forced to settle for three points.
Garrett Owens knocked in a 30-yard field goal from the left hash, and Iowa took over.
Late in the fourth quarter, the Hawkeyes tied the game at 38 all with an 89-yard drive, leaving Iowa State 1 minute, 9 seconds to work, the Cyclones, after three pass attempts fell short, ran the ball on third down and elected to go to overtime.
In the middle of the fourth quarter, Iowa marched down the field for a touchdown on its third touchdown drive of over 90 yards to cut the ISU lead to 31-28.
Park, on the next ISU play, threw an interception to Iowa's Parker Hesse.
But, Iowa, starting at the ISU five, was held to a field goal to tie the game.
Park responded on the next drive when, facing a 2nd-and-one at the ISU 26, dropped a pass to an in-stride Hakeem Butler, who took the ball 74 yards for the second.
The Cyclones trailed 14-10 at the half and looked to be on the ropes, as the Hawkeyes rattled off a 91 yard drive to close the first half.
Iowa scored again on a 94 yard drive on its second drive of the second half to go up 21-10.
Both drives lasted over five minutes, and ISU's defense looked gassed, while it's offense stalled out early in the second half.
The Cyclones responded with a 75 yard drive of their own, completed with a three yard touchdown pass by Jacob Park to a wide open Allen Lazard, one of Lazard's two touchdown catches on the day.
ISU put up 21 unanswered points—six of which came on a 30 with touchdowns on its next two drives to go up 31-21, but in the end came up short to the Hawkeyes.
Park threw 25-46 and finished with 347 yards, four touchdowns and an interception. Hakeem Butler was ISU's leading receiver with 128 yards and two touchdowns. David Montgomery ran for 112 yards and a touchdown for ISU.
The Cyclones fell to 1-1 and go on the road to Akron next week.
By Ian Murphy / Staff writer / imurphy@amestrib.com
Posted Sep 9, 2017 at 7:34 AM
at Akron University Zips
2017-09-16T16:00:00Z
InfoCision Stadium - Summa Field
Cyclones pull away in second half to defeat Akron
ISU tops Zips, 41-14
AKRON, Ohio -- After a shaky second quarter, the Iowa State football team's fate seemed very much in doubt.
The Cyclones, though, reasserted themselves in the third quarter, pulling away from Akron and ultimately winning 41-14 on Saturday at InfoCision Stadium to improve to 2-1 on the season.
It was a victory that was less-than-sweet for the Cyclones, who struggled through stretches before ultimately prevailing against a MAC opponent.
″You can't come out in the league we play in and have mistakes like that," ISU senior Joel Lanning said, "hurt ourselves and try to compete in the Big 12 like we're going to have to do.
"We've got big games coming up."
ISU opened up a 14-0 lead in the first quarter, but was unable to slam the door on the Zips (1-2), who managed to hold the Cyclones to two field goals in the second quarter while scoring two touchdowns of their own to go into halftime down just 20-14.
″We started off so hot," senior wide receiver Allen Lazard said, "and kind of toward the end of the first half, we kind of slowed down and cooled off."
The third quarter left ISU in much better shape, though, as the Cyclones outscored Akron 14-0 to regain control and separation from an Akron team that was slow to cede ground.
″Once we got a few plays going,a drive going," Lazard said, "it helped us get back in that rhythm."
Jacob Park completed 24 of 33 passes for 317 yards and two touchdowns while also rushing for a score. David Montgomery carried 22 times for 137 yards and a touchdown.
Quarterback-turned-linebacker Joel Lanning notched both his first sack and first interception of his career on the day.
For second-year ISU coach Matt Campbell, the day was largely defined by the shortcomings that plagued ISU not only against the Zips but in Weeks 1 and 2 against Northern Iowa and Iowa.
″The detail it takes to be really successful, we're not there yet," he said. "I thought it was great that we fought back, but there's a lot of work to do with our football program right now.
″I don't think it's a blip because I think we saw it in the UNI game. I think we saw it at times against that team out east (Iowa), and we saw it again this week.
"At the end of the day, that's what I saw. We must get better. That's all of us."
The Cyclones are off next week and then return to Jack Trice Stadium to host Texas on Thursday, Sept. 28.
By Travis Hines / Sports editor / thines@amestrib.com
Posted Sep 16, 2017 at 1:55 PM
Throw Back Thursday 90's Show (vs University of Texas Longhorns)
2017-09-29T00:00:00Z
Defense a bright spot for ISU
Cyclones kept Texas bottled up for most of the night
The Iowa State football team had no choice but to lean heavily on its defense.
The Cyclone offense sputtered to start and to finish and could not stay on the field, while the Longhorn offense was effective enough to get the 17-7 win.
Possession after possession, the Cyclones asked their defense to stand tall, and possession after possession, the Cyclone defense did.
"If you can control the line of scrimmage, you usually have a chance to have success, and I can't say enough about the improvement of that group," ISU coach Matt Campbell said of his defensive line specifically. "I'm really excited to watch them grow."
Texas held the ball for more than twice as long as the Cyclones, racking up 40 minutes and 31 seconds of possession to ISU's 19:29.
While it seemed the Cyclones couldn't get off the field, and they couldn't, allowing the Longhorns to convert five-straight third-down attempts to start the game and finish 11 of 23 on third down on the night, the offense could not stay on it.
Some wounds, however, were self-inflicted by the ISU defense.
On Texas' first third down of the day, sophomore defensive end JaQaun Bailey was flagged for unsportsmanlike conduct after celebrating a stop he made that would have resulted in a huge loss and a Texas punt.
The Longhorns turned the automatic first down into a touchdown and an early first-quarter lead.
"I probably just said, 'A, selfish, and, B, I expect better of you," Campbell said of his subsequent conversation with the somersaulting defender. "You made a great play, act like you've been there before. Young guy, guy that plays with a lot of emotion, but, again, you can't put yourself above the team."
Offensively, three Cyclones turnovers and a struggle on third downs offensively of their own, forced the Cyclone defense into a tough situation and 40 minutes of football.
There were no complaints from the ISU defense about the extended playing time, either.
"It's what we sign up for, it's part of the thrill of playing at the Division I level," ISU defensive end J.D. Waggoner said. "It's tough, but I love every second of it. This is something that I've worked for my whole life.
"I know the guys around me enjoy doing it as well, and that hasn't been always what we've had in the past. Now we've got 11 guys on defense playing as one."
Even in the loss, that the Cyclones gave up only 17 points and 312 total yards to a high-octane Big 12 offense is a massive step forward in an area the Cyclones have historically struggled, especially with Oklahoma lingering as the Cyclones' next opponent.
"It just showed who we are as a defense, we're not an easy defense to put up points on," linebacker Joel Lanning said. "You're not just going to come in here thinking you're going to throw up 50 points."
The offensive problems compounded over on the defense, and the Cyclones, given those circumstances, performed admirably.
Lanning had 20 tackles, eight of them solo, while Marcel Spears continued on his torrid pace this season with 14 tackles.
Lanning said the offensive struggles are just part of the game, and he made sure to tell ISU quarterback Jacob Park as much after the game.
He agreed with Campbell the Cyclone defense did improve from the Akron game, and in the bye week, to the Texas game.
"I felt like our bye week, we had great practices. We only went three days,but it was a good three days," Lanning said. "We were playing fast tonight, flying around, we were all pursuing to the ball pretty well, and going into next week with the two extra days is big for us. We've got a big-time opponent."
By Ian Murphy / Staff writer / imurphy@amestrib.com
Posted Sep 29, 2017 at 12:01 AM
Magic Show (vs Kansas University Jaywaks)
2017-10-14
Sound the CYren Homecoming Show (vs Texas Christian University Horned Frogs)
2017-10-28


Veteran's Day Salute - The Final Show (vs Oklahoma State University Cowboys)
2017-11-11
Davenport Schools Band Spectacular
2016-10-12T00:00:00Z
3600 Brady Street
52806
IA
United States
Brady Street Stadium
Davenport Students Join ISU Marching Band at Annual Band Spectacular
Central, North, and West high schools, along with Wood, Sudlow, Smart, Walcott, and Williams intermediate schools performed at the Band Spectacular at Brady Street Stadium. The Iowa State University Marching Band also attended and performed their pre-game and halftime shows. All of the seventh grade through college senior musicians joined to create a mass band and perform "Grand Old Flag," a tradition at this annual event celebrating Davenport's award-winning music program.
Youth In Music Marching Band Championships - US Bank Stadium
2016-10-09
401 Chicago Avenue
55415
MN
United States
U.S. Bank Stadium
U.S.Bank Stadium - Minneapolis, MN
The Youth In Music Championships have quickly become one of the premier marching band events in the Midwest, and the 2016 field contest will be the biggest in the event's history. This year the YIM Championships will be held in the brand new U.S. Bank Stadium in downtown Minneapolis. Join us on Saturday October 8, 2016 for the twelfth annual event.
As in past years, special guest units will perform during breaks in the contest. The 2016 lineup includes Minne-Brass and five fantastic university bands from four states.
2nd Annual Victory Day
2017-08-25T23:00:00Z
Second Annual Victory Day A Huge Success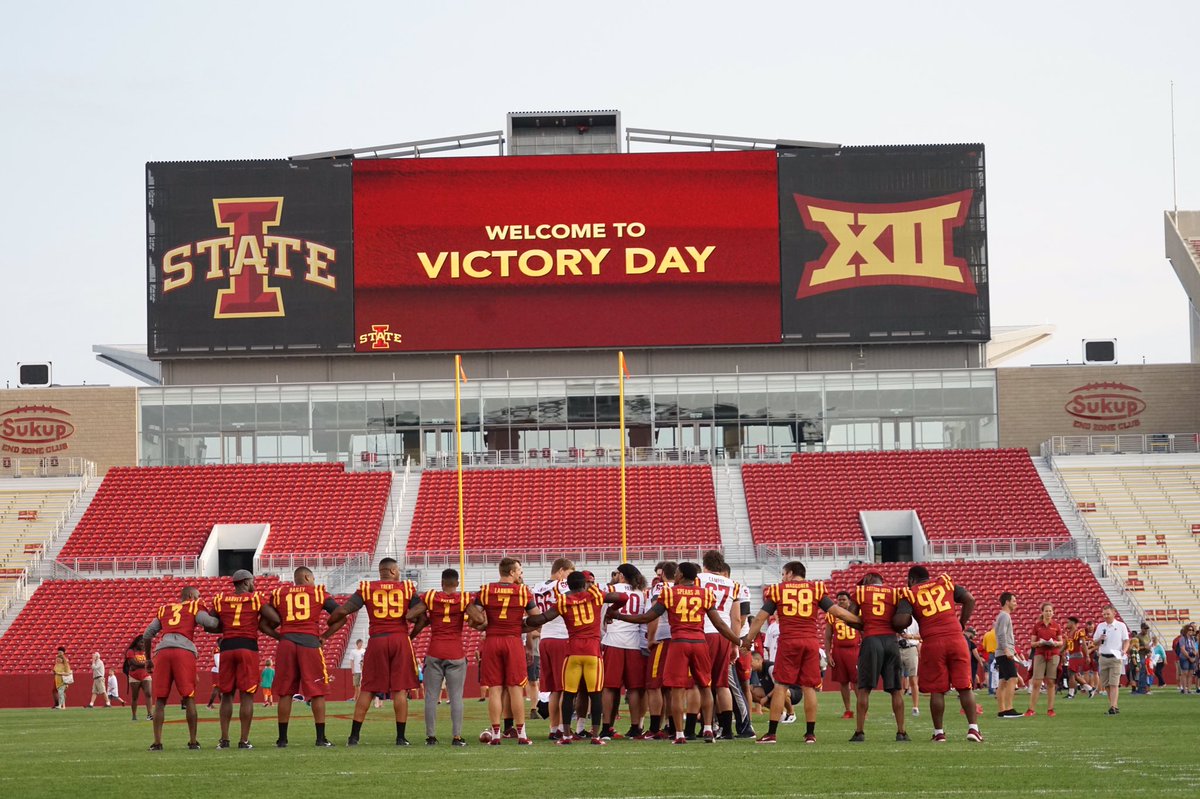 AMES, Iowa – Iowa State head football coach Matt Campbell kept his promise of making Victory Day an annual event, as a handful of Cyclone players gave back to the community by hosting students with disabilities at Jack Trice Stadium this evening.
Campbell and his team were busy teaching the students about the game of football. Over 60 participants from Ames Kiwanis and Ankeny Miracle leagues competed in drills, tried on shoulder pads for the first time and scored touchdowns, all with the assistance of the Cyclone football team.
The Iowa State Football Varsity Marching Band and the Iowa Spirit Squad also helped out at the event.
Campbell initiated Victory Day while he was the head coach at Toledo, and he implemented the program in his first season at Iowa State a year ago.
It's one of the most rewarding events of the season for Campbell and his team.
"Giving back and making a difference is what makes a program special," Campbell said. "Having everyone here, like the band and cheerleaders, is what we really makes this night special for the kids."
Senior Trever Ryen assisted at his second Victory Day.
"This is really cool for us to come out and help out," Ryen said. "Not everyone gets a chance to run out in Jack Trice Stadium. It means the world to them, and it means the world to us."
1st Annual Victory Day
2016-08-27
Cyclones Host Victory Day At Jack Trice Stadium
AMES, Iowa – Matt Campbell and his Iowa State football team spent their final Saturday before the 2016 season by giving back to the community.
Campbell and a handful of Cyclone players played host to Victory Day 2016 in Jack Trice Stadium, an event where students with disabilities can learn about the game of football.
Campbell participated in Victory Day in his tenure at Toledo. He hopes to make it an annual event at Iowa State.
"I think that sometimes we get so lost in football that we forget just how special it is to be able to play this game and to be a part of this game," Campbell said. "To be able to give some of that back and see some of these young people that would never have the opportunity to step between the white lines and play the game of football, that's special. It's even more special to watch our own kids help out and make a difference. To me, it's what the game is meant to be about."
The 60 participants from Ames, Kiwanis and Ankeny Miracle leagues ran drills, tried on shoulder pads and scored touchdowns, all with the assistance of the Cyclone football team. The Iowa State Football Varsity Marching Band and the Iowa State Spirit Squad also helped out at the event.
Winner of the 2017-2018 Sudler Trophy
2016-12-17
ISU Marching Band wins national award
Honoring the Close Historical Relationship and Outstanding Contribution of College Marching Bands to the American Way of Life
Iowa State University's marching band has won one of the most prestigious band awards in the country.
The "Varsity" marching band was recently awarded the Sudler Trophy, a biennual award from the John Philip Sousa Foundation honoring the best college marching band in the country.
Director Steven Smyth said the band was anonymously nominated by a former winner of the trophy or a member of the foundation. After that, Smyth assembled a portfolio for the judges and waited for a decision.
Smyth said the band was hoping to make the competition's semi-finals, comprised of the top three bands in the country. But he and his assistant directors found out they had won last Thursday at the Midwest Band and Orchestra Clinic convention in Chicago. Students found out they had won via email, which led to immediate joy.
"One of our drum majors was almost immediately wanting to drive in to see the ceremony," Smyth said. "But what's going to happen is going to happen this fall."
The band will receive the 80 pound trophy during a home football game next year and keep it for two years before receiving permanent plaques to hang in the Jacobson Building and Music Hall. The trophy was designed by the same artist who designed the Heisman Trophy, awarded to the top college football player in the country.
Smyth said the award is symbolic of the group's larger success.
"As they leave the year and the university for break, this is an affirmation that this a group that's committed to being really good," he said.
The band is also known as "The Pride of Iowa State." It was first established in 1881. The band now consists of 362 members, who perform at home football games, the annual ISU Band Extravaganza and other university functions and events.
This past summer, the band traveled to Normandy, France, and performed as part of ceremonies to commemorate the 72nd anniversary of D-Day.
By Dan Mika Staff Writer dmika@amestrib.com Posted Dec 22, 2016 at 3:48 PM Updated Dec 23, 2016 at 1:35 PM

Purpose
The purpose of the Sudler Trophy is to identify and recognize collegiate marching bands of particular excellence that have made outstanding contributions to the American way of life. The Sudler Trophy will be awarded biannually to a college or university marching band which has demonstrated the highest of musical standards and innovative marching routines and ideas, and which has made important contributions to the advancement of the performance standards of college marching bands over a number of years.
The Sudler Trophy is made possible by a grant from Louis and Virginia Sudler of Chicago, Illinois. The annual presentation is administered and implemented by the John Philip Sousa Foundation.
The Sudler Trophy is one in a series of awards developed by Mr. And Mrs. Sudler and the Sousa Foundation to recognize and to encourage excellence in the various aspects of band work. The marching band is a force which reaches countless students and audiences throughout the nation, and the purpose of the Sudler Trophy is to recognize the outstanding work and contribution of college and university marching band directors.
The trophy has been designed by the distinguished artist Ed Blackwell. It has been executed by Dieges and Clust, who also produce the Heisman Trophy. Consisting of a bronze drum major astride a football stadium and mounted on a marble base, the trophy stands 22 ½ inches high.
ISUCF'V'MB w/ Ames High School Little Cyclones
2017-09-09T00:00:00Z
Jackson Band Show 2017
2017-09-17T00:00:00Z
7600 Fulton Drive Northwest
44646
OH
United States
Jackson High School
"A Tradition of Excellence"
Jackson Festival of Bands
Saturday, Sept. 16, 2017 at 7:00pm
Buy tickets at the gate the night of the show, or purchase tickets online here: http://jacksonband.seatyourself.biz
Jackson Festival of Bands
featuring:
Canton McKinley High School
Chippewa High School
Cuyahoga Falls High School
Jackson High School
Lakeview High School
Massillon High School
Orrville High School
Iowa State University